Home
Contact Us
Latest News
Social Calendar
Meeting Minutes
Next Board Meeting
Board Members
Resident Survey
Suggestions
Homeowner Tips
Clubhouse Rental
Townhome Rules
and Regulations
Helpful Links
Restaurant Guide
Main Photo Gallery
All Photo Galleries
Poker Photo Gallery
Aerial Photo





Archive of the "Latest News"

ARCHIVE - TOWNHOME PROJECTS:
Posted 10-30-08

Roof, Gutter and Deck Projects:
After a well-attended October Board Meeting, several important projects were passed by the Townhome Board. The exciting news is that the Townhome Board passed a five year roofing plan to replace all the Townhome roofs beginning with Building #3, (addresses 13254-13256) , Building # 10 (addresses 13364-13372) and Building #11( addresses 13374-13382). This will be completed immediately by Michael's Roofing of Wauconda, Illinois. Along with the roofs, new gutters will be installed. President Ray Reilly explained the need to do the project, and also the preventive maintenance aspect of the project. He presented the history of the roofs, which are twelve years (12) old and the financial plan of this project. Notification to homeowners will be forthcoming.

The deck project was passed, which includes replacing forty-three (43) existing decks and repairing forty-one (41) others. Decks will be brought up to code by adding hand rails. Footings will be added where needed for leveling and to help sinking in the future. The vendor chosen is Azteca Structures, Inc. This vendor did the Townhome sidewalks last month and has completed work for the Umbrella Association. Work will begin immediately. Homeowners will be notified as to the timeline and what preparations the each individual owner must do.

The window well project which includes new window wells for most residents will wait until next spring.

The annual Budget Committee is being formed to formulate the 2009 budget. Volunteers are being sought. If you are interested please contact Ray Reilly, President, or Diane Pagoulatos, Treasurer.

The Townhome Pizza Party was new idea by the Board for neighbors to get together and visit over Pizza and Pop. It was a great success with over 50 residents attending. Residents got to meet the Board members and meet new neighbors as well as an opportunity to find out what has been happening lately in the community. Debbie Nissen, our property manager from Berkson and Sons, as well as Medina, her secretary were present to meet and greet neighbors. The Board thanks them for all their prep work in sending the flyers, ordering and delivering the pizza. We appreciate all their efforts in making this event a huge success.

Also, at the Pizza Party our Webmaster Les was on hand to inform residents about the Townhome Website. Umbrella President Brad Petit was also on hand with a live presentation of the website. Thanks Brad for all your help to promote our website that night.

The Townhome Board has been working diligently to improve the maintenance and upkeep of our homes. They have been meeting monthly to attend to maintenance issues.




- # # # # # -



Posted 10-27-08

Townhome Roofing Project Projections: See the breakdown on the townhome roofing project. This project is a long term 5-6 year project. The reason for this is largely for financial reasons.
Click to see Roofing Project Projections.




- # # # # # -



Posted 9-25-08

The Painting Project will begin on Thursday, September 25, 2008. There have been some material delays. The wood replacement will begin on Thursday and two to three days will be allotted for woodworking. The painting will begin next week and the project will continue for 10 (ten) days.

All fronts of the townhome units will be power-washed before they are painted. Notices will be sent to notify residents when this will happen, so residents will be reminded to close all windows in the front of their units. The Concrete Replacement of Sidewalks begun on Wednesday, September 24, 2008. Twenty-one (21) units have been designated to receive new sidewalks.



- # # # # # -



Posted 9-9-08

The Townhome Painting Project will begin on Monday September 22. Detailed flyers will be sent in the mail to the homeowners with particulars.

After another inspection the Board felt more maintenance issues needed to be addressed. More pillar posts were identified to be repaired or replaced. More brick moldings were identified to be replaced. Repairs to be made include installing filler pieces of trim on the garage overhead frames to prevent weather damage and creatures from entering.

The Townhome Decks will be inspected by three deck companies and bids will be gotten to do repairs on them during the fall season.

Various potential dangerous sidewalks have been reported and bids are being sought by our manager Debbie Nissen from Berkson and Sons.

The Townhome roofs will be inspected by qualified roofers and bids will be sought to replace the roofs in phases in the next three to four years. It is not too early to consider this project . Budgeting wisely and proper long range planning will save dollars for us and avoid surprise special assessments.

The gutters will be watched closely to see if they need to be cleaned out in the late fall.

Vendors have been out to measure for the 100 new custom fitted window wells.

Maintenance issues continue to be addressed when residents call and report them.



- # # # # # -



Posted 8-29-08

The Townhome front entranceways were power washed the middle of August. The Townhome Board voted on the Painting project. This project will begin on Monday September 21 and will be in progress for 10 days. The front structures of the Townhomes will be power washed and prepared for painting. The garage door trims will be painted , as well as the doorway trims, the entrance doors, the half-moons of the Mallard and Drake units. The drivit above the garage doors of all models will be painted as well as the address numerals. Pillar posts will be replaced as needed and all pillar posts will be painted.

The Townhome Board voted to replace 100 window well grates and vendors will be on the property to measure the custom-fitted metal grates.

The Sump Pump Project was completed during the period of August 21 through August 29 on Buildings 12, 13, 14, 15, 16.

The Board decided to have a roofing survey done on the advice of the CAU Insurance which came to assess the total property at Whispering Lake. The Board is looking into conducting a Reserve Study.

The CAU Insurance company recommended that homeowners clean out their dryer vents and also have a carbon monoxide detector in their home. This detector is a State Law.



- # # # # # -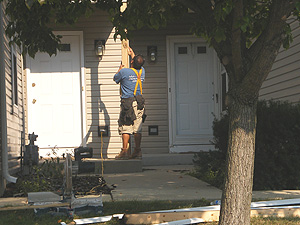 Townhome Repairs - September 2008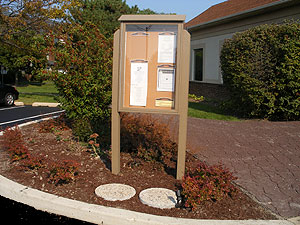 New Bulletin Board - September 2008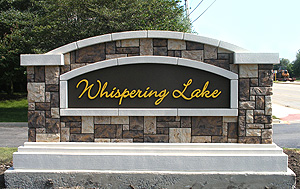 New Whispering Lake Sign 7-11-08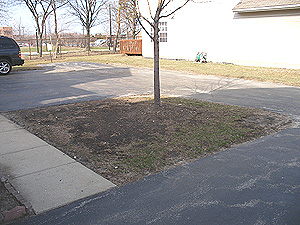 Landscaping Problem - May 2008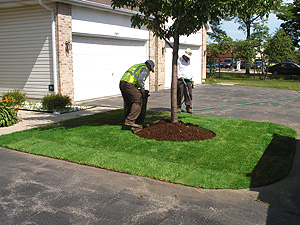 Landscaping Solution - June 2008







ARCHIVE - UMBRELLA PROJECTS:
Posted 10-24-08

The Umbrella Board has formed the Budget Review Committee to formulate next year's budget 2009-2010. Treasurer Ray Reilly is the head of this committee along with volunteers Carrie Taylor, Les Cieplinski, Art Hepner,and President Brad Petit overseeing.

New move-in and move-out rules are being written. The non-usage of PODS ( Portable on Demand Storage) will be included as well as a security deposit required of new residents. All moves will be co-ordinated by the Management Company David Berkson and Sons. Paper work will be drawn up by the Board members and be sent out to the residents for review. Thirty day notice is required for residents to review. They are voted upon by the Board.

New locks for the Clubhouse Entrance will be installed, as well as a panic bar for the front door. Twenty non-duplicated keys will be manufactured.

The bathroom in one of the two Clubhouse Apartments will be repaired. Tub and tile repairs will take place.

A new compact utility vehicle (garden tractor) is to be purchased by the Umbrella Association with a plow for Doug to plow snow off the sidewalks of the Condominiums and Clubhouse areas this coming winter. This will facilitate snow removal and save us money in the long run. This will take some of the pressure off the budget by dropping snow sidewalk removal out of the snow contract with Brickman Landscaping Company. Brickman will continue to plow the driveways of the Townhomes and shovel Townhome sidewalks also.




- # # # # # -



Posted 9-22-08

The Sealcoating Project was completed during the week of September 15-19. Our property has a brand new look. Many thanks goes out to the residents for enduring the schedule and parking changes to their daily routines, and to the Board Members, Debbie Nissen and Doug Kornfeld who supervised the daily events.

The Umbrella Board will be forming a Budget Committee to work on next year's budget. Residents interested in serving on this committee are to give their names to Debbie Nissen or any of the Board members or volunteer at the next Umbrella Meeting on October 20, 2008.

Some of the upcoming Umbrella Projects to be considered in the 2008-09 Budget are:
• Roof repairs to the Clubhouse.
• Furniture for the Clubhouse Party Room.
• Updates to the Clubhouse Restrooms.
• Clubhouse Kitchen appliance updates.
• Outdoor Gas Grill for the Exterior Deck area at the Pool.

Should you have any areas of concern in the maintenance and repair realm that should be addressed please feel free to suggest your ideas to a Board Member or the Property Manager Debbie Nissen at (847) 498-6000.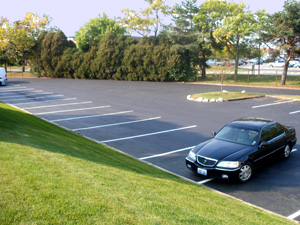 New Sealcoating - September 2008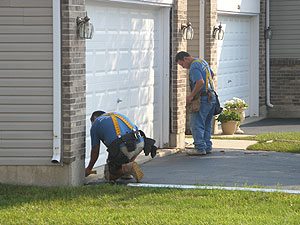 Townhome Repairs - September 2008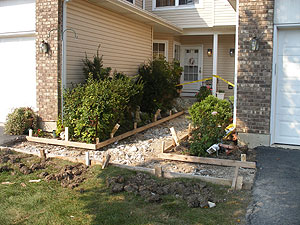 Townhome Repairs - September 2008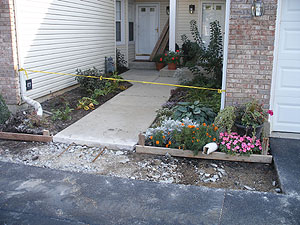 Sidewalk Repairs - September 2008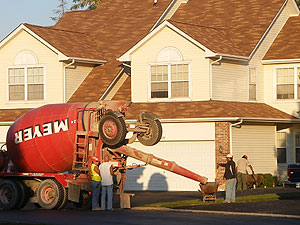 Townhome Repairs - September 2008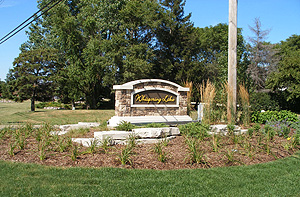 New Landscaping - August 2008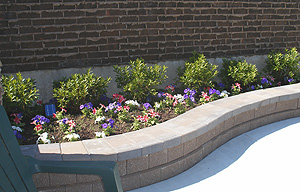 New Pool Wall - July 2008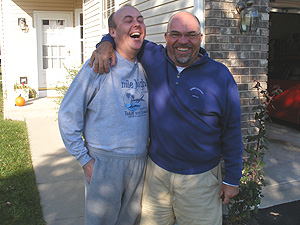 Fall - October 2008